T

H

IS BOOK JACKET was created for an illustration project at the University of Minnesota. It features an application of my illustration style cover design. I wanted to create something that would be both eye-catching and embody the nature of the book. 
Coraline

is one of my favorite childhood novels. I remember being fascinated and horrified reading it for the first time. With this cover, I wanted to capture the feeling I felt when I first heard the audiobook. This project also features my typeface,

Coraline,

made simultaneously for a separate type design project.
As with every project, I began with little clue of what I wanted to design. There have been many different covers in many languages related to both the book and the movie, each with varying degrees of success. 
During the ideation portion of the project, I created a list of items and symbols from the book I felt were important to its themes and tone including: rats,cats and dogs & buttons, keys and hands. From sketching to various title treatments and layouts, I built a wire-frame to construct my composition. 
​​​​​​​
Initially I pursued a method of hand-sketching layers, scanning them, and finally arranging and coloring them in Photoshop. What I was arriving at with this method wasn't working. The result was stylistically similar to the Classic Penguin covers of the early twentieth century, but was the opposite effect of what I was looking for.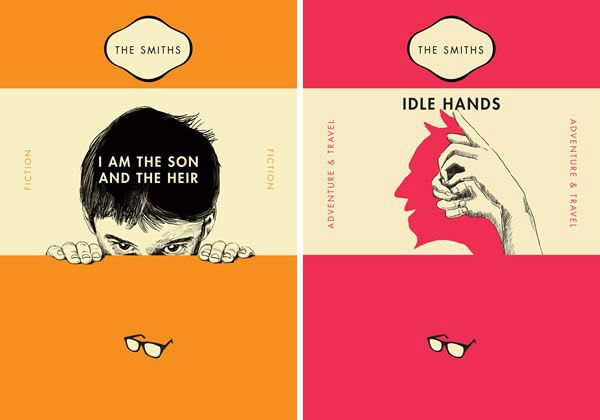 This time, starting from scratch, I focused on the feeling of the book: a viney, creepy vibe that established my header. Gone was the stiffness of the baseline and regularities of type. I transferred the sketches into Photoshop and began to play. 
The tree composition was not consistent with the story arc, so with feedback from my classmates, I applied new title treatment to the first. I took a step back and realized I had a direction for the rest of the project. I replaced the yellow background with a sample of wallpaper and I could see the end of the road. 
​​​​​​​
At this point a lucky accident destroyed my computer fan, and I was forced to look for other tools until the part for my computer arrived, borrowing my girlfriend's touchscreen ThinkPad. This cut the amount of time it took to draw by about 75% and allowed my to achieve more refined, but organic look in multiple layers, creating my back cover. 
With this complete, I moved on to the layout. For the type, I used my recently completed

Coraline

typeface to use with the original back cover copy. I debated using the same headshot of Neil Gaiman as used on the original, but opted for a more modern and updated photo for my cover.